A Musical Consumer Review
January - Saturday Night.  Herman's Hideaway
This was my first experience with a musical hurricane. To say this band blew my hair back is a gross understatement. 
This band is in a class way above the first three acts I saw that night. It is a collection of seven highly skilled, well-seasoned
 performers who express a diversity of style and musical genre unmatched by anyone the duck has ever seen before. 
 I believe these folks do Old  School Funk as it is SUPPOSED to be done.  Their delivery of a groove is the groove I've always looked 
for, but few musicians could quite produce. The "Jazz" on the end of their name must not be taken lightly
Interspersed with the thumb-slap-funk bass lines were intricate morsels of what some of us call Real Jazz.
The horns in this band teased me mercilessly with deep statements of the heritage of Jazz and Soul. 
Snippets of "oh, my, what was THAT?" tickled my innards in ways so good it was almost embarrassing . Combine
the Funk, Jazz and Soul with a generous dollop of high humor and stage presence and you do indeed have a
musical hurricane that took me places I've always longed to go. BUCKNER FUNKEN JAZZ is on the same bill 
as the Neville Brothers on March 3rd at a DCPA benefit for performing arts education The Neville Brothers
and the Denver Center's Arts in Education program never had it so good!. It has been a long time since
I experienced gem-quality funk and soul. 
BUCKNER FUNKEN JAZZ delivers! They have just released a new CD,
and based on Saturday's performance it is a Must Buy!  This duck went home to the nest with her funky
musical feathers well puffed.
---
Get to the Points
"Cool, crazy and hot." More than fifty years ago, that's what legendary Five Points DJ Leroy Smith promised his show would be — and
the neighborhood will once again be cool, crazy and hot today, when the fifth annual 5 Points Jazz festival takes over Welton Street starting
at 11 a.m. What's cool? The assorted acts that will perform — some of the town's best jazz artists — including the Hugh Ragin Ensemble
(doing an on-air gig at KUVO, 2900 Welton), Buckner Funken Jazz Band and Sammy Mayfield Blues Review on the outdoor stage
(new this year), and the Dale Bruning Quintet (in the Blair-Caldwell African American Research Library at 2401 Welton, where the festival
got its start five years ago).
What's crazy? How big this event has gotten. "It's grown to include numerous venues along Welton, as well as
numerous partnerships within the local community," says Pauline Herrera of the Denver Office of Cultural Affairs, the presenter. A shuttle
will run between entertainment venues; five eateries will offer $6 lunches; three musical mainstays of the community — Dr. Sam Gill,
George Morrison Sr. and Freddy Rodriguez Sr. — will be honored with tribute awards created by local artist Li Hardison; and the Black
Arts Festival has also joined the lineup. What's hot? All of it's free! For details, go to www.denvergov.org/5PointsJazz.
---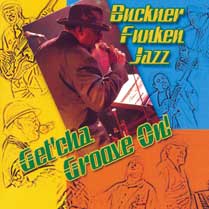 "Hey Ron (B-6) ~ True to my word I listened to BFJ's latest CD Get'cha Groove On! and it is SMASHING
from beginning to end. The quality of the mixing and mastering are as good as it gets
and is seriously top-notch. Lots of great material to draw on for the WAVE!"
Love and Waves ~ Carmen Colorado Wave
The WAVE Is The First Non-Stop Homegrown Music Showcase,
And Also The First And Only Syndicated Radio Show Of Its Kind.



Get on our Mailing List